The exhibition Playing with Colour and Nature was shown at the Tuggeranong Arts Centre in Canberra ACT, October 2018. The show was designed for toddlers. It recognised their need to touch and feel and move and explore things; the value of colour, construction and participation; recognition and removal of some of the rules that frame our adult perceptions of beauty, depiction of nature, exhibitions and gallery experience. Most of the works are movable and the show acted as an artwork in itself, which could be reconfigured many times throughout the month as the children playing in it reconstructed and developed it themselves.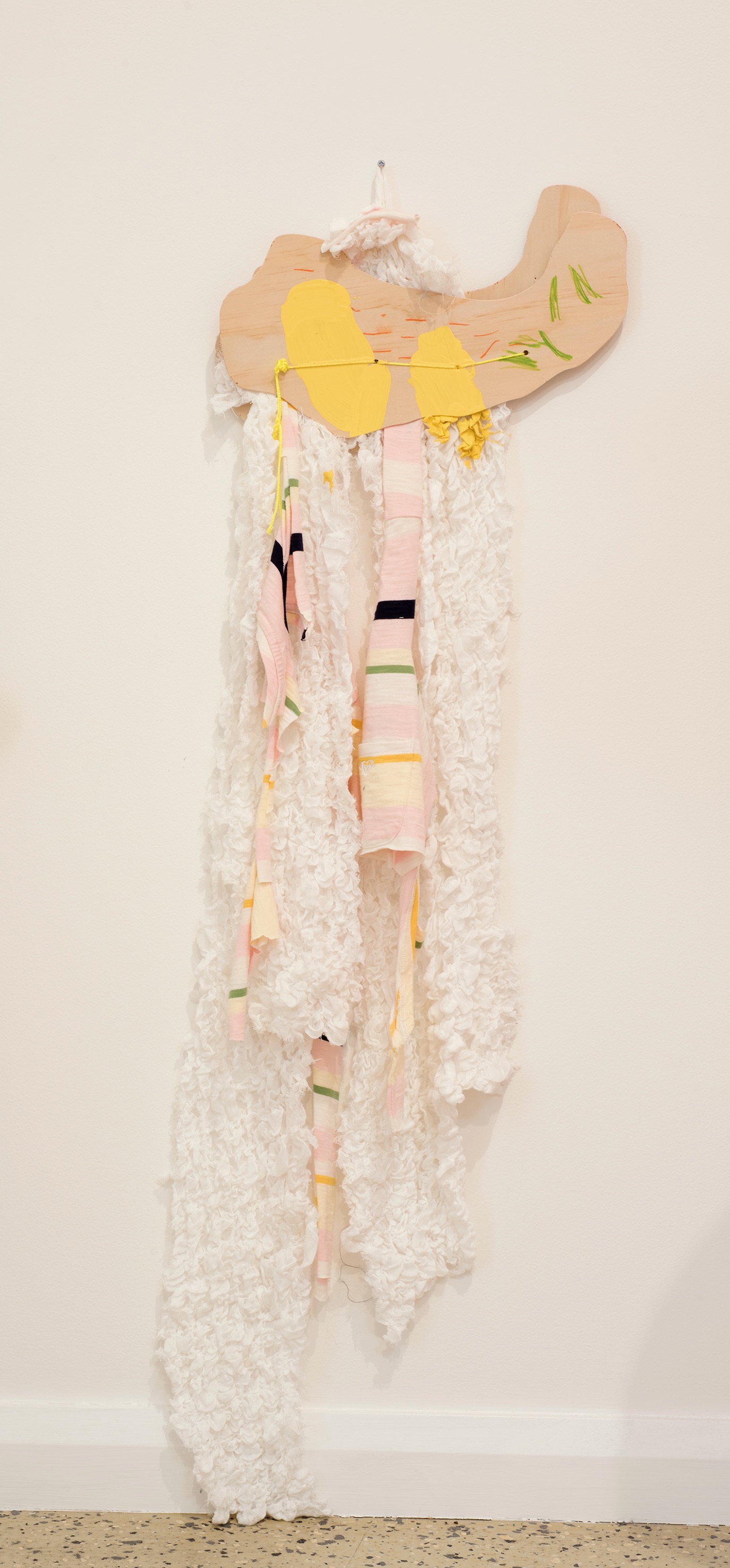 I created this exhibition alongside my almost 3 year-old daughter Camille as we spent a delightful year exploring Lanyon Historic Homestead, on the Southside of Canberra, as artists-in-residence. I wanted to experience the landscape at Lanyon through the seasons of a year and in that time to find out more about the way I interact with nature and the way I describe that in painting. Exploring and making art alongside Camille gave me incredible insight into the languages of Western Art and the way I use them to frame my experience of outdoor, non-urban environments. Camille, being untrained in Western visual language comes to art making in nature in an entirely different way to me. What a liberation it was to follow her lead, down on the ground, stopping to notice so much, following line and colour on paper in the same open minded way as she follows ants and tree roots and garden paths. Not hovering anxiously over a painting but abandoning it to explore the vege garden or create a new pile of tiny little stones.
This exhibition recognised the process of art making. As I integrated art practice with a young family, a career and other life responsibilities I spent many sleepless early mornings wondering how the show could possibly come together in time and how as a trained painter I could possibly get a sense of a large sculptural installation when working out of a small studio at Lanyon Historic Homestead and a small bedroom in our house. But the show grew like a garden as Camille and I together made artworks on the back deck, in the gardens at Lanyon, on and around the train-sets and bookcases of our lounge-room and I realised that like Lanyon gardens, and Camille's growth as a person, the exhibition did not need to be finished, or perfect, that it would grow over the time it was in the gallery at Tuggeranong Art Centre and as it will hopefully grow and change again many times as I show it in different locations interacting with new families and young children.
Funded by the Australian Government Regional Arts Fund through Tuggeranong Arts Centre, Playing with Nature and Colour was designed to be accessible to young children in particular and to invite participation by them. The bounds of this exhibition challenged me to let go not only of the more tradition constructs of Western art making, but also the idea that I have to be the sole author of the work and claim it as my own. That sense of ownership or author-ship as an artist sats as uncomfortably as the construct of ownership of the land, which I also grappled with in my year at Lanyon, finding out more about the Indigenous history of the area and observing the way history and ownership is portraited and conveyed in our society. In order to learn and develop the work I co-made it with many people. Camille was the greatest contributor and it was a joy to work alongside her. Special thanks go to Tina Brown for generously sharing the history of her people, the Ngunnawal people, in the Canberra region. The children at Treehouse in the Park Childcare Centre in Turner helped me to make coloured sticks and rocks for the show. Realising I could not make all of the soft sculptures on my own I put a call out in the community and I'm grateful to the people who came along to make them with me. Penny Spoelder and the staff at Lanyon Historic Homestead and ACT Historic Places have been so helpful, welcoming and open-minded and made us feel right at home. Thanks also to the staff of Tuggeranong Arts Centre for commissioning the project and supporting its development so well.
Trying to work with Camille in an open minded way and instead of teaching her the right way to make art, following alongside her in an exploration of nature and colour and art making has enriched my understanding of art immeasurably. I hope the show excited the imagination of the children who explored it and enthused adults to play creatively with children without worrying about what might be beautiful or correct, approaching it just as they would the unruly adventure of a garden and nature.
Making of the work and hanging the show has been made possible though the support of:
ACT Historic Places and Lanyon Historic Homestead, Tuggeranong Arts Centre and the Australian Government Regional Arts Fund. Tina Brown who has generously shared with me some of the Ngunnawal history of the area.
Dana, Carmel, Penny, Dioni, Laura, Sarah, Brooke, Abi, Susan, Lee, Treehouse in the Park kids, Kimoyes for materials, Sewing bee helpers, Karim at Tharwa Valley forge, Nikki Apse, Art Monthly Australasia magazine, and many others.
Most importantly, my daughter Camille Jeanne Murphy who has made much of the work with and beside me.
I acknowledge and celebrate the First Australians on whose traditional lands we meet and work, and whose cultures are among the oldest continuing cultures in human history.